Aussie Outdoor Alfresco and Cafe Blinds
Aussie Outdoor blinds are individually designed and custom made to ensure the perfect fit every time. Our blinds offer a wonderful ambience to suit your home and are perfect for entertaining and creating more room.
All our products are Australian-made using only the best quality materials. Aussie Outdoor blinds offer protection from the harsh Australian weather conditions so you can sit back and enjoy outdoor living all year round.
Aussie Outdoor pride ourselves on achieving the highest standard in quality, service and attention to detail every time in a professional manner. This sets us apart from the rest and makes Aussie Outdoor your number one choice.
We offer a 5 year warranty on our products – our professionally-trained staff will ensure that the investment you make in your home is valued.
Aussie Outdoor Alfresco Café blinds will offer protection from the sun/heat, wind, and rain so you can enjoy outdoor living all year round.
When elegance and durability come together Aussie Outdoor blinds perform the best every time.
Make an enquiry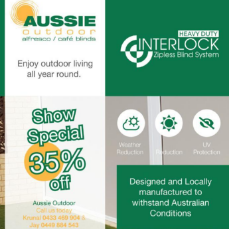 Special

- Show Special 35% off

Enjoy outdoor living
all year round... With our 35% OFF every Blind