Modern Flames Electric Fireplaces
Modern Flames, a leading innovator in electric fireplace design, has transformed the market with groundbreaking advancements. They introduced linear electric fireplaces to North America and achieved notable milestones like the first recessed, built-in, outdoor, and virtual fireplaces.

The Orion® virtual fireplace exemplifies their innovation, boasting unrivaled realism through Heliovision® technology. Architects, designers, builders, and homeowners worldwide praise Modern Flames for its lifelike flames, easy installation, and affordability compared to traditional wood and gas options.

With an emphasis on sustainability and efficiency, Modern Flames remains a front-runner in the electric fireplace industry. Headquartered in Phoenix, Arizona, with an expanded warehouse, they continue to shape future industry standards.

In summary, Modern Flames has redefined electric fireplace design and technology, gaining global recognition. Their commitment to innovation and eco-friendly practices sets them apart, as they continuously set benchmarks for the industry.
Make an enquiry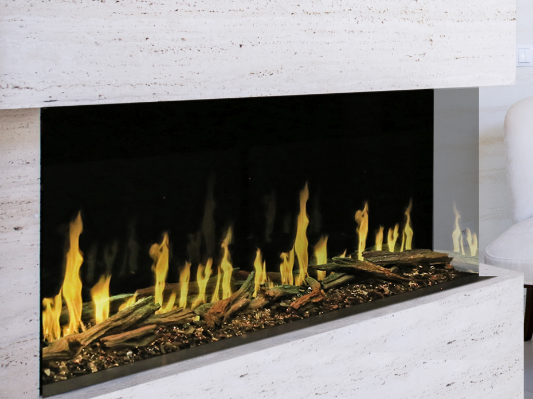 Special

- 20% Off All Electric Fireplaces

Purchase any electric fireplace to receive 20% off the RRP.